Blog/Personal
Friends
Links
Me
Categories
Other
Filed under:
I've updated my county map again, what with places I've visited in recent months, and places I simply forgot to add in the past. I haven't included counties I've only travelled through, as in a way that's not really visiting them… how representative is a motorway of a county? I guess the answer to that one may depend on the county!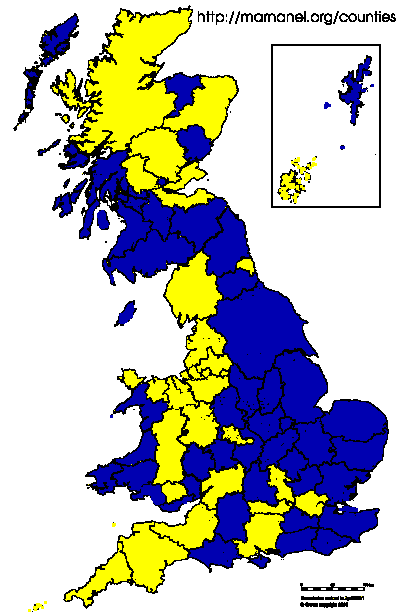 Also, I've uploaded the photos of Tom's passing out parade at HMS Raleigh in Torpoint, Cornwall yesterday – click here to view them. There are a couple of movies of the military band too, which were very good. Some other photos will be uploaded later once I look through the photos on Tom's camera. Overall it was a pretty good event – we set off at 4am to drive down from North Wales, and got there around 10am (when we weren't allowed in the main car park until 11.30am), so had to kill some time. Then the event started properly a little while after 1.30pm, after having had spent some time in the Raleigh Bar, with a video of what they'd all been up to for the past couple of weeks. The parade started at 2.30pm, and it was generally very impressive – the military band was very good, and the boys were all rather good. Felt quite proud of Tom really, he certainly seems to have matured a lot over the past couple of months. 🙂
Back in North Wales now until Thursday, when I'm heading back up to St Andrews for the second week of the holidays. Well, that's all for now!
4 Comments to "Another update to my map"
Leave a Reply