Blog/Personal
Friends
Links
Me
Categories
December 2023
M
T
W
T
F
S
S
1
2
3
4
5
6
7
8
9
10
11
12
13
14
15
16
17
18
19
20
21
22
23
24
25
26
27
28
29
30
31
Other
Filed under:
Came across this link earlier today… some rather scary-looking roads there! In the winter (wet season), the track down to my Dad's house in Brazil can be a bit wet – indeed, very wet – but it's nothing compared to that Siberian road!
Speaking of Brazil, I shall be heading back to the UK on Thursday, arriving on Friday. It's been a nice couple of weeks out here, and the weather has been lovely (although I did get fairly badly sunburnt the other day at the beach). Photos will follow on when I get home. Exam results should be out tonight, and semester 2 starts next Monday. All very exciting!
Until next time…
Filed under:
Yep, it's the invasion of the minimal-content blogs. Hmm, I still have to let you all know about my holiday, don't I?
Oh, by the way: possibly old, possibly not, but chutney. It's addictive and memorable in the same way as Magical Trevor was. It just goes round, and round, and round, and round, and…
Filed under:
I did promise to post a blog about exams and holidays and second semester and so on, this I haven't done yet. I may do it later tonight.
Anyway, I randomly came across the falling sand game today, something which infected #tycoon a little while ago and I imagine a good chunk of the rest of the Internet. It's really quite addictive, give it a try. 😉
A proper blog is coming soon, anyway… probably.
Filed under:
For the über-geeks out there… Das Keyboard. It's basically a normal keyboard, only with a special feature!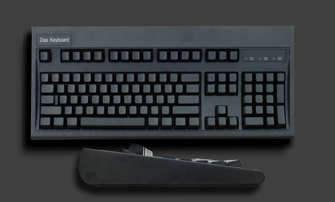 Heh. 🙂
Filed under:
Had to smile at this one… Toast in the Post… it seems to be what it says it is, they send you a piece of toast in the post! I've not tried it, but it looks interesting enough. Please note that they don't supply butter, jam or other condiments. 😉
Filed under:
Now, you may have heard of Wikipedia, but have you heard of Uncyclopedia? Uncyclopedia is a very funny site full of very funny articles about the world we live in. A few examples of pages I've noticed that made me laugh… Eiffel Tower, Scotland, London, Those magazines where you get free stuff and binder with part one, but get hammered on the subsequent issues….. check it out, you might like it. 😉
Filed under:
Was sent this little quiz today… take the test today. My results:
Overall, you scored as follows:

47% scored higher (more nerdy), and
53% scored lower (less nerdy).

What does this mean? Your nerdiness is:

Somewhat nerdy. I mean face it, you are nerdier than about half the test takers.
Which sounds about right. I'm tired, and must do some more French revision, so au revoir for now!
Filed under:
If you're ever stuck wondering what tea and/or biscuits to buy, NiceCupOfTeaAndASitDown.com is just the site for you. Featuring reviews, tests, and all sorts, it's the perfect companion for all your tea-tasting needs! 🙂
And that is that for today.
Filed under:
owenrudge.net has been mentioned on the latest episode of LugRadio, an amusing British radio show taking a relaxed look at Linux and open source in general. In episode 9, GEM was mentioned, so I e-mailed them to let them know that GEM was still around… I've not had a chance to listen to the new show yet, just going to do that later, but I hear that a link was given back to my site, so here I am returning the favour. 😉 Check it out, it's a very interesting show.
Apart from that, what have I been up to? School, really. There was practically no snow today… someone has said it's apparently meant to snow tonight, but whether it will, who knows? Must go anyway, dinner soon.
Filed under:
Finally, it's here! 😀
Enjoy, learn, and spread religiously. I'm wondering if this'll have the same effect on the school/hostel as the original did? Remember, kids, you saw it here first! 😉
Filed under:
Hmm, this whole "post every day within a single month" thing isn't that easy, you know. I've been trying since September and still not managed it…
Oh well, was looking through some old e-mails today and found this, from the US Department of Laughs. A bit old, but still really funny. 😉
Talking about funny things… this isn't so much funny as totally bizarre. Have a look at the Salad Fingers animations at gprime.net (in the Flash section). It's rather weird and yet strangely funny and addictive.
On another totally unrelated subject, Apple is taking over Microsoft. Not quite "taking over", as such, but apparently Microsoft's employees are buying too much Apple stuff (in particular, iPods), and Microsoft is constantly having to remind employees that it doesn't look too good. Kind of funny, and ironic, really.
Well, that'll do for one day… pretend I posted this yesterday or Wednesday, if you like.
Filed under:
This site is hilarious – full of a variety of interesting pranks and other random things, but it's very funny. I found the Wal-Mart one rather funny, as well as some of the ones in the "Hall O'Fame" there. If you need a laugh and have some free time, take a look at some of those. 😉
Filed under:
Hmm, this guy is sitting waiting for Star Wars Episode III already. Seriously. The film comes out in May, it's January… oh well, some people do have too much time to kill!
Filed under:
Came across this site just now while looking for the lyrics of Tom Lehrer's song "The Elements": The The Movie Clichés List. While I've seen some of them before (eg, the Computing ones), it really is so true…
Filed under:
Was just watching one of the DVD commentaries for ROTK, and for some reason I ended up typing "Smeagol wouldn't hurt a fly" into Google. From there, I discovered a whole load of funny sites, including this one. If you're even vaguely interested in LOTR, read it, it's really rather funny in places. I'm quite interested in Star Wars, so I found this one where LOTR and SW are mixed rather entertaining. This fake press release was also quite amusing, as was this extra-extended DVD preview – including such deleted scenes as "The Silmarillion"!
Fun stuff indeed. 🙂
Oh, for anyone interested, I did manage to get my Specialist Study finished for yesterday. The maximum number of words was meant to be 4,500… I somehow ended up writing 5,275 words, but it can be cut down in future versions. We'll see how it goes. 😉
Filed under:
Quick blog… just found this Scotland Aerial Photos site… very interesting. Be sure to check out the Orkney section! 😉