Blog/Personal
Friends
Links
Me
Categories
Other
Filed under:
Well, I'm now living in my summer accommodation, on South Castle Street in St Andrews. It's quite a nice location because it's in the middle of town, and barely 5 minutes or so away from Tesco, the union, or indeed just about anywhere in St Andrews. I could get used to living here, I'm sure! Back in Albany Park in September though, so I'll no doubt have to get used to the long walks/bike rides again. 😉
Now then, the summer…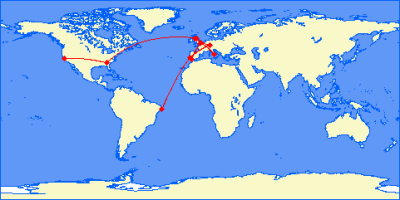 This is where I'll be heading this summer… some 24,763 miles of flying, comprising 14 flights. First off it's a trip to California for a couple of weeks on the 17th June, flying from Edinburgh, via Atlanta, to San Francisco. I've never been outside Europe before, so that should be very exciting! Then, shortly after getting back from California, I'm off to Brazil for a month in July – the day after my birthday, in fact. I also get to visit the delights of two Portuguese airports while heading out there, and a German airport on the way back – will be quite a journey! And then, just 12 days after that, I'm off to Rome with a friend from uni for a week! It'll be a mad summer! 🙂 In fact, I think I'll only be spending some 57 days of the 113 or so days in the summer in this country! Great stuff!
Filed under:
Well, my second set of university exams are now finished. They seemed to go fairly well – CS1004 Internet Programming, MN1002 Organisations & Analysis, FR1012 French II (Science) being the exams I sat, with a grammar and an oral exam for the latter. Had French grammar today, which was reasonably good, and now all is done! Just need to pack everything to move into my summer accommodation now… I'm staying in St Andrews for the summer, although won't be here for all of it as I'll be travelling quite a bit! More on that story later.
Filed under:
Just booked a flight to San Francisco to visit a friend in Santa Cruz in a month's time! Woo! 😀
Filed under:
It's been a busy weekend. The annual Charity May Ball was held on Saturday, and I was attending. It was rather good fun, photos and some video are in the gallery. Tonight was the Castle Ceilidh, held – funnily enough – in the grounds of the castle here, and was also rather good fun, I do miss a good knees-up.
I'd write more, but as is usual these days, I'm rather tired and could do with bed! Exams start in a week, and this week coming is intended to be a revision week, so revise I daresay I should! May go down to Edinburgh on Tuesday though to see Kristin, would be good.
Ta ta for now, hope everyone is well!
Filed under:
Oh what a beautiful morning, oh what a beautiful day.
Hitting 20°C today and everything! Very nice.
Filed under:
Hundreds, maybe even thousands, of students all jumping into the North Sea at sunrise. Madness. Cold, but strangely fun. I don't feel tired now, though…