Blog/Personal
Friends
Links
Me
Categories
Other
Filed under:
After being absent from this site for about a year, the guestbook is now back, with a significantly lower level of spam than previously. There's still a bit kicking around, as I haven't got rid of it all yet, but compared with before, there's quite a bit less! Feel free to leave a comment if you have anything to say! I'll work on the theme for the main owenrudge.net guestbook soon – the TT Station guestbook is fully-integrated into the site design, though. Have fun!
Filed under: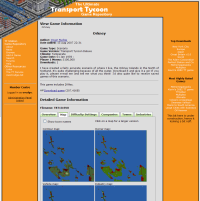 Well, the other day, GoneWacko inspired me to start working again on the new version of the Repository. The old version hasn't really been updated since it was written back in 2001, and it really shows. Particularly the fact that most of the links to scenarios are broken. The new site works rather nicely, and can analyse saved games to pull up a ridiculous amount of data, all nicely accessible from within the site. Hopefully, the inspiration will last long enough for me to finish it and get the site out sometime in the next few weeks. We will see. Got any suggestions for features for the new site? Let me know!
Filed under:
August already… yes, I make a similar exclamation every month, but time really does seem to fly. Somehow, it's over half way through the summer holidays already. A month and a bit and I'll be off up to St Andrews again – probably going to head back around the 12th or so, to give me time to get everything in order. Then there'll be freshers week preparations to do, followed by freshers week itself. Then, on the first of October (now that seems quite a long way away, I must say), third year will begin properly. It looks like it'll be a busy year, and quite a step up from second year. Not looking forward to a couple of modules, but we'll see how they go.
Life isn't too exciting here in North Wales at the moment. Been doing work in the garden and suchlike recently, when the weather's been good enough for it. Grandad's TV died last week, so that's been replaced with a nice new 32″ widescreen HDTV. Market day in Mold tomorrow, so we'll head in and do the usual routine. And that's about it for now. I'm looking forward to getting back up to St Andrews, most definitely.