Blog/Personal
Friends
Links
Me
Categories
Other
Filed under:
Am a little bit bored so decided to steal this from Ann's LiveJournal…
– – – – 5 YEARS AGO – – – –
How old were you?
13
Where did you go to school?
Sanday Junior High School (well, Sanday Community School as it became)
Where did you work?
I didn't.
Filed under:
I've updated my county map again, what with places I've visited in recent months, and places I simply forgot to add in the past. I haven't included counties I've only travelled through, as in a way that's not really visiting them… how representative is a motorway of a county? I guess the answer to that one may depend on the county!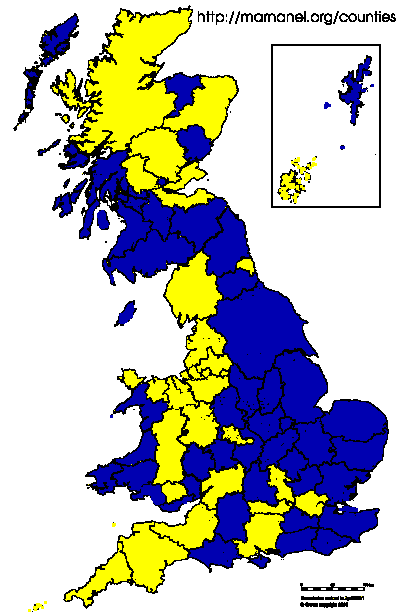 Also, I've uploaded the photos of Tom's passing out parade at HMS Raleigh in Torpoint, Cornwall yesterday – click here to view them. There are a couple of movies of the military band too, which were very good. Some other photos will be uploaded later once I look through the photos on Tom's camera. Overall it was a pretty good event – we set off at 4am to drive down from North Wales, and got there around 10am (when we weren't allowed in the main car park until 11.30am), so had to kill some time. Then the event started properly a little while after 1.30pm, after having had spent some time in the Raleigh Bar, with a video of what they'd all been up to for the past couple of weeks. The parade started at 2.30pm, and it was generally very impressive – the military band was very good, and the boys were all rather good. Felt quite proud of Tom really, he certainly seems to have matured a lot over the past couple of months. 🙂
Back in North Wales now until Thursday, when I'm heading back up to St Andrews for the second week of the holidays. Well, that's all for now!
Filed under:
Got home to North Wales last night for the Easter break (which doesn't actually cover Easter this year). Got up at 4am then to drive down with Dad to Plymouth for my brother's Royal Navy passing out parade. It was really quite good – Tom seems to have matured an awful lot this past couple of months. Shall post more tomorrow anyway, I'm very tired. 😉
Filed under:
It's gone and snowed again! The BBC is currently predicting more snow over the next week or so, too (well, "light snow"). We had "light snow" yesterday morning – particularly so in Dundee – but today I woke up to find it white outside, people making snowmen and throwing snowballs, and all that sort of stuff. Muchos fun. 🙂
I sat my driving theory test in Dundee yesterday morning, and of course, I passed. 😉 34 out of 35 on the multiple choice, and I passed the hazard perception with a mark only a bit above the pass mark to be honest, but it was a pass anyway. So that's all fine and good. It'll be at least two months before I can sit my practical due to the long waiting list at Cupar, but hopefully I can get that done in May or June. Would be nice, anyway!
Time is flying and in two weeks, I shall be in North Wales again – the holidays are near. I'm not too sure where this half of the semester has gone – it only seemed to have started, and now it's nearly gone! I've got a chunk of work to do over the next couple of weeks too, particularly as I'm leaving a bit early to attend my brother's passing out parade for the Navy in Plymouth. I was quite pleased that I was able to book a "Super Advance Return" ticket to Flint – £29.70 return (with railcard), as opposed to at least £50 for a standard saver ticket. It means a bit more waiting around at stations (I have to change 3 times on the way there, although only once back, which is nice), but it's a lot cheaper! Despite what people say, I personally don't find the British rail network to be all that bad – at least, the routes I take seem to be alright most of the time! Can't say I've ever really had a bad experience – a couple of minor delays at times, but that's about it.
I was very tired last night as, after getting back from Dundee, I went straight to the union to help set up for King Creosote, a band who were playing in the union last night. Spent from 1pm to around 1.30am there, working hard for most of it – was fun and rewarding though, if tired. Oh, this is on the Ents Crew, by the way (entertainments crew – setting up sound and lighting, lighting in my case, for the event).
Right, I'm hungry, going to get some food, and then check the forums – not really had much time to check tt-forums this week! And then I really should do some work…
Filed under:
Finally, the St Andrews microclimate has caught up with the rest of the UK! 🙂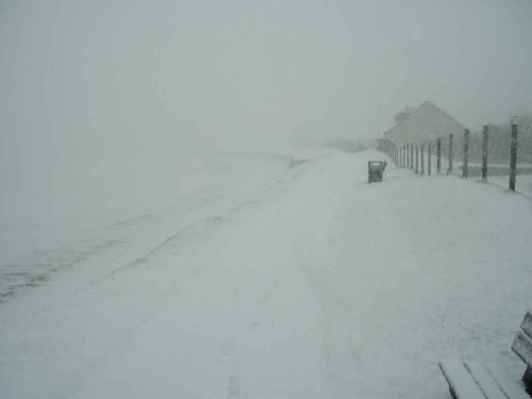 While it isn't quite as white as that photo shows (the East Sands a bit earlier in the day), it's still all snowy, and a few snowmen have sprouted from the ground, and there's the crunch-crunch-crunch as you walk around the place. Yay. 🙂