Blog/Personal
Friends
Links
Me
Categories
Other
Filed under:
So, I've spent the past couple of weeks staying with Rachel at Incline Village, Lake Tahoe, just over the border in Nevada. It's rather nice here, with Lake Tahoe being rather large and picturesque (and many photos will follow once I get home and upload them all). It's been surprisingly warm and sunny here (considering it would normally be quite snowy) – in fact, a lot of the snow has been melting. Tahoe is one of the best places for skiing in the US, so I figured it was something I had to try. Before last week, the first (and last) time I had skied was in 2000, when I was on a school trip to Edinburgh. I seem to recall that I only began to feel vaguely comfortable when it was time to leave…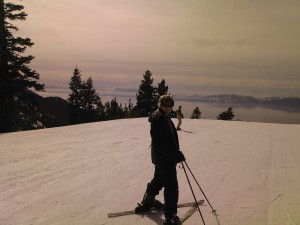 This time, though, things were a bit different. I went last Tuesday afternoon with Rachel, and Rachel attempted to teach me the basics. Alas, this didn't go very well, and I fell over a lot. In fact, I pretty much spent more time on the ground than I did standing up. So I decided it would make more sense for me to get a proper lesson. Went in on Wednesday morning, and got the "early bird special" private lesson package, with a great instructor called George. Somehow, everything seemed to make a lot more sense, and the lesson seemed to go really well. I stuck to the basic "schoolyard" slope for the rest of the morning, and in the afternoon got a cheaper group lesson. (I also managed not to fall over, instead of the previous day where I barely managed to stay up.) Since the place was so quiet though, there were only two people in our group, and the other person dropped out after a while because they weren't quite as comfortable as they thought they were at skiing (it was a "2nd time skiing"-type lesson). So effectively I got a two hour private lesson for $25. Winner.
The instructor that afternoon took me up "Lodge Pole", the more 'difficult' of the beginner slopes. I was somewhat apprehensive about this (particularly since the previous day, Rachel had recommended we go up for the view – which was fine, but getting down proved to be a problem… I ended up getting a trip down on a snowmobile!), but it turned out to be fine and dandy. Did a few runs of this, and the instructor seemed to think I was fairly good at it. So for the last event of the day, we went up "Lake View", which leads to more intermediate runs, and we took "Freeway" down. I did manage to fall over a couple of times here, mainly because I was afraid I was going to end up accidentally going down some of the more difficult runs instead of going where I was meant to. When I think about it now, I'm not quite sure why I did this, but I guess it was my first time up on one of the "intermediate" runs, so I was a bit nervous!
Anyway, next day, I came back, and was on my own for the day. Ended up trying out Freeway again (which had got quite icy due to the snow melting in places), and after a few runs of that, made the choice to try some of the more tricky intermediate slopes, such as "Popular" and "Penguin". These were a fair bit tricker – steeper and longer, but rather good fun. Came back again a couple more times over the past few days, and I'm now reasonably confident about some of these runs. Today Rachel and I decided to take a group lesson (and again, ended up being the only people in the group!) to improve our skills a bit – I wanted to try to master parallel turns. This is something I didn't quite manage to do, but apparently I'm a lot better at it now than I was. In the afternoon, we went up the "Crystal Express", which is the lift that takes you to the very top of the mountain. The view was quite something – see the photo above – and it wasn't too bad down, if rather tiring due to my inability to properly perform parallel turns!
All in all, the past week or so skiing has seen me go from falling over a lot, to managing to get down from the top of the mountain without falling over. So I'm pretty pleased about that. It seems skiing is something I shall have to try again in the future.
Over the next couple of days, we're going to visit some of the local towns and so on and see some of the non-skiing-related sites, before I head home on Saturday. Get in on Sunday (back in St Andrews by the evening), and then the new semester starts on Monday! Project work and an essay due next week too, though, so there'll be lots of work to be done while I'm here…
Speaking of work, I got my exam results back yesterday. One exam wasn't quite as good as I expected, but otherwise I'm fairly pleased with the results. 🙂
Well, I'd best try to do some of that work, I guess, now. See you back in St Andrews.
Leave a Reply