Blog/Personal
Friends
Links
Me
Categories
December 2023
M
T
W
T
F
S
S
1
2
3
4
5
6
7
8
9
10
11
12
13
14
15
16
17
18
19
20
21
22
23
24
25
26
27
28
29
30
31
Other
Filed under:
So, Mozilla have today released Firefox 7.0. As far as I can tell, Foxamp 0.3.14 should continue to work both as an upgrade and as a new install. It looks like Mozilla's compatibility updates are finally working (it's never worked for Foxamp before, even though they claim it should). If anybody does have any problems, please let me know.
Filed under:
Well, with Firefox 6.0 on the horizon, it's time for a new Foxamp release. This version actually has something new in it other than a compatibility update, though – Unicode support. If you've tried to play songs with Unicode characters in their name, you may have noticed they didn't render properly in Foxamp. This should now be fixed. Unfortunately, this does now mean that if anybody's using Firefox 1.5 or below, they will no longer be able to use Foxamp, but, well, time moves on, I suppose! Also, anybody still on Windows 95/98/Me won't be able to use the application, either. (If anybody *does* actually still use those versions, please let me know!)
Anyway, you can grab the new version in the usual location, or you should get an automatic update in the next day or two whenever the editors approve it. And I do have some plans for new features and improvements in the next versions (as well as an intention to bump the version number up to 1.0.0!), so hopefully you'll see more progress soon. 🙂
Filed under:
I've released a new version of Foxamp which should now have proper Firefox 5.0 compatibility. While I did update the version identifier on the Mozilla Add-ons site, it seemed that for some users, the add-on would disable itself upon restart after the initial update. Hopefully releasing a completely new version will fix that. If people still have problems, please let me know.
You can download the new version from the Foxamp web site, and it should also be available on the Mozilla Add-ons site in the next few days.
Filed under:
OK, so I managed to get the opportunity to test Foxamp on a Windows machine with Firefox 5, and it seems it works OK. I've therefore updated the compatibility identifier on the Mozilla Add-ons site. I've not yet updated the version on this site; I'll do that once I'm back in the UK!
Sorry for the delay, and thanks for using Foxamp!
Filed under:
For those of you who have upgraded to Firefox 5.0 and are awaiting a Foxamp upgrade, there will be one coming soon, just as soon as I get back to the UK – expect it in the next couple of weeks.
(Alas, I fear delays while I update the add-on may become a regular occurrence, with Mozilla's stupid new release/versioning schedule, but I shall try to keep on top of it!)
Filed under:
So, it turns out that Firefox 4.0 hasn't actually broken Foxamp as much as I thought, and I've now released a new version with support for Firefox 4.0. Click here to download it, or if you're already a Foxamp user, you should receive an update notification through the Mozilla add-ons service soon.
Filed under:
As usual, I've been rather busy lately, and neglecting this site. Sorry! I even missed owenrudge.net's 11th birthday, which happened on the 28th of November. (I was somewhat busy flying across the Atlantic that day, not helped by all the snow in Scotland at the time!)
I in theory should have a new version of Foxamp, compatible with Firefox 4.0, at some point in the near future. Other than that, I will try to post a blog with a bit more of an update sometime in the near future, but I have another traversal of the Atlantic next weekend, before settling down for Christmas in the UK. 🙂
Catch you in another few months…
EDIT: Ugh, after having just installed the latest Firefox beta to play around with, I'm really, really, not liking the UI changes they've made. Looks like there may be quite a bit of work to update Foxamp, too, and I'm in no rush to do that with this horrible new UI. Inevitably I'll have to migrate eventually, I suppose. I do wish people would stop messing up perfectly good UIs, or at least removing the options that allow old UI features to continue to be used (e.g., completely removing the status bar in Firefox 4.0; removing the classic Start menu in Windows 7; the entire UI in Office 2007/2010 – which, admittedly, I do find to be quite handy for most things now that I've got used to it, but it can still be a puzzle to find some random old command I use once in a blue moon, but I digress.) But anyway…
Filed under:
Well, ten and a bit years ago, my Transport Tycoon Station was launched! (The anniversary was actually in July, but I've been a bit busy lately and didn't notice, I'm afraid.) Since then, the site has grown enormously, with the development of several useful Transport Tycoon utilities, a comprehensive strategy guide and reference, saved games and scenarios, and, of course, The Transport Tycoon Forums, which originated as an offshoot of the site. The Transport Tycoon "scene" has also changed significantly, with the rise of TTDPatch in the early 2000s, and then the creation, release and further development of OpenTTD in the second half of the decade. Will we still be playing Transport Tycoon in 2020? I've no doubt the game will live on, and I'm sure the Transport Tycoon Station will still be here then too. And who knows, maybe I'll have even finished the new Repository by then! 😉
EDIT: And, as a little tenth birthday present, I've updated some of the pages on the site, and even finished a couple of those pages that weren't yet finished. Enjoy!
Filed under:
I have released a new version of Foxamp. Foxamp 0.3.11 adds support for Firefox 3.6. Apologies for the delay with getting this released – it's been a busy couple of months!
Filed under:
Just a quick message to wish all visitors to my site a very happy new year. 🙂
Filed under:
Well, to be more precise, 10 years of Owen's Visual Basic Workshop, which then evolved into the site you see before you. It was the 28th of November 1999 when I launched my first web site, and it's grown significantly since then! I'll hopefully post a new blog later today (I've been meaning to post on for over a month now, but been quite busy), and shall likely comment on the anniversary later on.
In the mean time, here's to another ten years!
Filed under:
A minor update to Foxamp has been released. Version 0.3.10 fixes an annoying bug whereby Foxamp would display a "Winamp is not running" message every 5 seconds if Winamp was indeed not running and Foxamp was unable to start it. If your Firefox is set to automatically check for updates, it should receive the update shortly – if not, you can manually download it here.
Filed under:
Yes, just five years after Chris Sawyer's Locomotion was released, my new Locomotion site has launched! To be more specific, I have taken over the site from Stephen Brandwood, who hadn't the time to maintain it, and relaunched it. The site's content has been updated, the design improved, and I intend to provide more updates when I can in the future. If you have any comments or queries on the new site, please get in touch!
Filed under:
I have released an update to Foxamp. Foxamp 0.3.9 adds support for Firefox 3.5, so if you've upgraded Firefox, you'll want to install the new version.
Filed under:
Well, I'm an hour late, but yesterday, owenrudge.net turned 9 years old! Yep, on the 28th of November 1999 I launched "Owen's Visual Basic Workshop", which gradually evolved into the site you see today. 🙂
Filed under:
I've finally updated the About Me page with more information, well, about me! To be more precise, I've split it up into a few different pages, depending on what you want to know about me, and I've updated details of the likes of the open source projects I've worked on.
On another, unrelated, note, I'm thinking I will stick my entire site in a Subversion repository, to make maintenance easier, and also to provide a nice history feature – if I update something and break it entirely, I can go back and figure out what caused the breakage a lot more easily. While this'll make more or less no difference to you, the end user and visitor, it'll be beneficial to me. 🙂
Filed under:
I've released a new version of Foxamp, version 0.3.8. New in this version is support for Firefox 3.0 (which was released today). The helper application that retrieves the song title and performs some miscellaneous functions is also faster and more efficient, and the playlist number and Winamp title are no longer included in the status bar. If you use Winamp and Firefox, check it out. 🙂
Filed under:
Yes, I missed the actual birthday again, but yesterday, owenrudge.net turned eight! Eight years… time does fly! Eight years and one day ago, back in 1999, I launched "Owen's Visual Basic Workshop", and, after many changes indeed, here we are today, with a nice new design, and the odd bit of updated content too! It's also funny to think that some of the content on the site is now 11 years old (the 1996 archived stuff in the blog) – madness! And apparently, I can't end a sentence without an exclamation mark!
Anyway, who knows where the site will go over the next year? Probably not too far, admittedly, as I'm rather busy with real life, although I'll hopefully find some time to finish up the new Repository at some point. We'll have to see… some exciting things in the pipeline, potentially.
Happy birthday, owenrudge.net!
Filed under:
After being absent from this site for about a year, the guestbook is now back, with a significantly lower level of spam than previously. There's still a bit kicking around, as I haven't got rid of it all yet, but compared with before, there's quite a bit less! Feel free to leave a comment if you have anything to say! I'll work on the theme for the main owenrudge.net guestbook soon – the TT Station guestbook is fully-integrated into the site design, though. Have fun!
Filed under: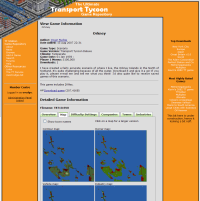 Well, the other day, GoneWacko inspired me to start working again on the new version of the Repository. The old version hasn't really been updated since it was written back in 2001, and it really shows. Particularly the fact that most of the links to scenarios are broken. The new site works rather nicely, and can analyse saved games to pull up a ridiculous amount of data, all nicely accessible from within the site. Hopefully, the inspiration will last long enough for me to finish it and get the site out sometime in the next few weeks. We will see. Got any suggestions for features for the new site? Let me know!