Blog/Personal
Friends
Links
Me
Categories
Other
Filed under: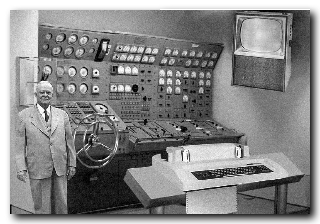 That is the so-called "home computer of 2004" (thanks to Grumpy Gamer and John Battelle's Searchblog for that one), from 1954, apparently. The steering wheel in particular looks like a nice addition… funny that they didn't turn out to be all that popular in reality, eh?
One Comment to "The home computer of the future…"
Some good news …. I went to my local potter.. not Harry. Anyways she quoted £1 for 6 unique figures for one game… she said she would do it for the price of the materials, because it was a bit fun!!! sounds good to me… nice computer pic though.. and they weren't that far off, it looks like a prototype I saw for dell or was it tiny.
Leave a Reply